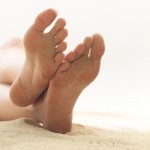 Reflexology is a safe natural holistic healing therapy that is widely used and extremely successful today.  The human body is a delicately balanced machine, where everything works together for the benefit of all.  Reflexology is based on the principle that all the organs and glands of the body have a corresponding reflex point in the feet.  Stimulating these reflexes aids in the clearing and opening the vital energy pathways that run through the body.  This brings balance and harmony enabling the body to function efficiently.
The client remains fully clothed, reclined on the couch supported by pillows.  Using the technique of applying gentle pressure to reflex areas on the feet brings about a state of deep relaxation thus stimulating the body's own healing process.
Treatment Session (60mins) £45 (Michelle Sanson)

At the initial treatment you will have a full consultation about your health and lifestyle in order to take into consideration the best treatment plan.  The treatment lasts for approximately 60 minutes.  Please allow an extra 15 minutes for the first consultation.  It is advisable to have 4-6 weekly treatments initally in order to notice maximum results.  'Maintenance' or 'top-up' sessions are advisable to keep this state of well-being.  These sessions would depend on the client's requirements and could be once a month or once every three or even six months as is appropriate.
Reflexology with Reiki (Michelle Sanson)
The combination of these two therapies is extremely effective.  Reiki is a subtle yet powerful treatment that accelerates the body's healing process.  Reiki energy naturally flows where it is most needed.  Reiki flows to the exterior bodily symptoms and to the deeper root causes that may exist in the mental, emotional and spiritual connections.
After 40 minutes of Reflexology, the body's energy pathways are open and ready to receive healing.  The 20 minutes of Reiki involves the gentle placing of hands over the body from the crown of the head to the feet.  Each position is held for several minutes.  The client will enter into a very deep state of relaxation and calm, feeling centred, positive adn balanced.  Although the effects may seen outwardly subtle, profound changes may occur inwardly as the body is encouraged to heal itself.
For appointments please contact Michelle direct.
Michelle Sanson
The Floating Factor
01892 539669
07733 074390
sanson504@tiscali.co.uk
www.thefloatingfactor.co.uk
LIMITED AVAILABILITY.  Appointments available Tuesdays  10am-6.000pm (other days and times may be available).