The Ananda Clinic was established in January 2010 by Janet Adams, a highly experienced and respected local McTimoney Chiropractor.  Janet had previously been treating her patients from her home but decided that she wanted to be able to offer her patients the opportunity to experience other hand-picked therapies that she knew would benefit them.  After opening the Ananda Clinic in Tonbridge, Janet gathered together a small number of Therapists in different fields to compliment the McTimoney Chiropractic treatment that she could offer.
Fast forward to today and The Ananda Clinic in Tonbridge is a thriving and well-respected complementary health clinic with more than 18 Therapists using it as their Tonbridge base.
Janet now works alongside two other McTimoney Chiropractors,  a CranioSacral therapist , a Sports & Remedial Massage Therapist and an Acupuncture Practitioner and a Foot Health Practitioner.
The Ananda Clinic in Tonbridge is also able to offer complementary therapies such as Ayurveda, Reflexology and Reiki.  The Ananda Clinic also has a full complement of Counsellors which includes CBT (Cognitive Behaviour Therapy), Clinical Hypnotherapy and Clinical Psychology.
The Ananda Clinic Studio was opened in 2015 and currently offers a variety of yoga classes including Chair Yoga.
We stock a small number of products at The Ananda Clinic including Biofreeze, Cold Packs, Nelsons Arnicare, Betteryou Magnesium and Vitamin Oral Sprays, Tisserand and our very popular CompleteSleeprrr Pillows.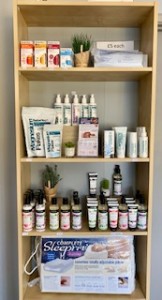 Despite being the Tonbridge base of 18 Therapists we pride ourselves on maintaining a calm and restorative environment.  We are open Monday to Friday and Saturday mornings.  Details of individual Therapist's clinics are on their pages.  Appointments can be made either by contact The Ananda Clinic or by contacting the Therapist themselves.  Our Practice Manager is available on reception Monday to Friday at various times throughout the day to make your appointments or to answer any questions you may have.