Rachel Holcroft, Sports Massage & Remedial Soft Tissue Therapist, BSc Dip SMRT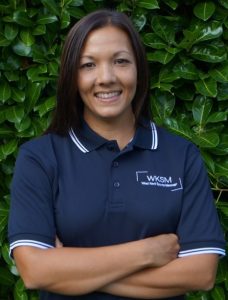 Since graduating in Sport & Leisure Management from Loughborough University in 2009, Rachel had fallen into a desk job and knew she wanted to follow her passion and move towards an active sport-related role. In 2018, she began training towards her L5 Sports Massage & Remedial Soft Tissue Therapy qualification at the North London School of Sports Massage (NLSSM).
After qualifying in 2019, she has expanded her knowledge and gained her Kinesiology Taping and Cupping qualification with RockTape and completed a Pregnancy Massage qualification. Rachel is now one half of West Kent Sports Massage, working alongside her colleague Graeme Bayley, where they both offer a range of therapies that assist in accelerating their client's return to activity. Rachel is also a fully insured member of the Sports Massage Assocation (SMA) complying with all statutory regulations and professional development requirements.
Rachel has always had a keen interest in sport, including tennis, netball, sailing and skiing. Alongside this, she maintains her fitness through running, mobility work and Pilates.
TREATMENTS
Sports Massage & Remedial Soft Tissue Therapy
Well suited to clients with a few deep tissue issues or those looking for body maintenance, injury prevention and mobility work.
30 minutes… £40
50 minutes… £55
Deep Tissue Massage
A general massage that will include techniques to help release tension and offer regular body maintenance. These sessions can focus on one area or the full body.
30 minutes… £40
50 minutes… £55
 Pregnancy Massage
A relaxing prenatal massage that focuses on the needs of the mother-to-be as her body goes through the changes of pregnancy. Suitable for those in their second or third trimester.
50 minutes… £55
 Post-Natal Massage
Post-natal massage can be done as early as the first few days following a natural delivery to help assist with the transition into motherhood. Post-caesarean full body massage should only happen when the wound is almost healed and pain is controlled.
50 minutes… £55
 Pre- or Post-Event Massage
An effective and beneficial treatment for people to receive before or after strenuous training or a competition to help either prepare or repair the muscles.
30 minutes… £40
50 minutes… £55
 Kinesiology Taping
Rehabilitative taping offering support to joints with the aim of preventing injury, adding stability to a specific area and/or improving performance. This can either be applied during a treatment or offered as a standalone 15-minute session.
15 minutes… £20
Applied within a treatment… £10
Dry Cupping using RockPods
An ancient form of alternative medicine that involves placing cups on the to create suction. The suction can facilitate healing due to increased blood flow, relieve muscle tension and promote cell repair. This can either be carried out as a standalone treatment or incorporated into a deep tissue or sports massage.
30 minutes… £40
50 minutes… £55
Rachel is available for appointments on:
Wednesday 9:45 – 14:00