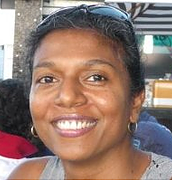 Dr Em Perera
Chartered Clinical Psychologist with the British Psychological Society (BPS), Health and Care Professions Council (HCPC) and ACT therapist and supervisor
Main style of therapy used
I am trained and prefer using ACT (Acceptance and Commitment Therapy).  A 'cutting edge CBT' that incorporates Mindfulness and purposeful living.  This will suit clients interested in CBT,   Mindfulness Based Therapy (MBT) or (CFT) Compassion Focused Therapy.
I am also trained and use FST (Family Systems Therapy), traditional CBT (Cognitive Behaviour Therapy), and brief psychodynamic therapy.
I use play therapy with pre-adolescent children.
Approach suitable for
ACT – A broad range of people and conditions.  This includes adults, adolescents and couples who have difficult-to-manage emotions or relationship difficulties, which prevent them from living a constructive life.  An active, practical approach for realising change.
FST – Helps couples, families or individuals work on relationship concerns linked to their family or work.
MBT – Helps individuals looking for a relapse-prevention approach or who are looking to be able to accept and manage difficult emotions.
CFT – Individuals who experience a high degree of shame and self-criticism and are looking to develop a more self-compassionate, nurturing approach to themselves.
CBT – Individuals looking to understand and change problematic ways of thinking and behaving.
Brief summary of approach
My therapeutic approach is to use evidence-based therapies in a flexible, collaborative and client-centred way.  I believe a strong therapeutic relationship is the key to successful therapy and I will therefore work to develop this with my clients.  This relationship will underpin my approach, regardless of the type of therapy being used.  I frequently use diagrams, exercises and measures to support the therapy.  I will also recommend books and websites if I feel these will add to the therapy.  There will often be therapeutic tasks to complete between sessions and these will be agreed with the client.  I conduct regular reviews with my client to ensure therapy is meeting the client's goals and needs, and a change of direction may be taken at any agreed point to ensure our work is effective.  A final review will identify what has worked and a relapse prevention plan.  Feedback will be requested from the client at the end therapy and we will compare what has changed since the beginning of therapy.
Additional information
I am a Chartered Clinical Psychologist with the British Psychological Society (BPS).  I am registered with the Health and Care Professions Council (NCPC), BUPA, AXA-PPP, Vitality, Cigna and Aviva Insurance agencies.
Please also see information about training events and courses that I run on www.enhanceliving.org
For appointments please contact me on 07896 045904 or email em@enhanceliving.org.
Clinics are run at The Ananda Clinic on Mondays 9am – 3pm and Tuesday mornings.