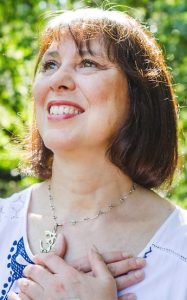 Gilly qualified as a McTimoney Chiropractor in 1998 and began working with CranioSacral Therapy the following year after witnessing the powerful effects that it had on her own son, who has special needs. She also uses SomatoEmotional Release to assist with emotional trauma that is locked in the body, as well as Visceral Manipulation to assist with digestive system issues.
She has spent over twenty years working with people of all ages from newborns through to the elderly, helping to restore balance and promote wellness.
She enjoys working with people with special needs including autism as well as pregnant woman; working with them throughout their pregnancy as well as treating them and their babies following the birth. Gilly is also qualified in Massage, Crystal Healing and Sound Healing. She is a Tutor for the College of Sound Healing
Gilly's clinics are open on Thursdays 3pm – 8pm, Friday 4pm – 8pm and Saturday 9am – 1pm.
Contact the clinic on 01732 850695 to book an appointment with Gilly.