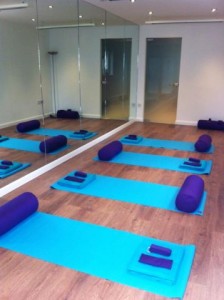 Somatic Movement
A Somatic Movement Therapist will teach you how to uncover habituated holding patterns in your body.  These patterns can produce pain, injury, compensatory tension in other muscles, restrict vital flow through the soft tissue and organs of the body and seriously affect your overall health and well-being.
By using small, slow movement with specific breath-work and discussion, you can learn to accurately "feel & locate" once again, where your body is and is NOT moving and then begin to understand why.
You will return "natural human movements" back into your body.
You will learn how to reset your nervous system by taking it from "Fight or Flight" mode back to its opposing "Rest and Restore" mode – vital for healing.
You will have a better understanding of the triggers/situations that cause your "habitual movement patterns" therefore your body awareness will improve hugely at which point you can start to reduce these patterns and prevent recurring problems.
A Somatic Movement Session begins with an initial consultation to help your therapist and you, the client, understand perhaps where and how the stress in your body could be presenting itself.  We will discuss previous illness, injuries, life events to a level that you are comfortable with sharing with me.  We then begin to work on breath and perhaps introduce some very small, basic movements back to the deepest layers of your body.  This can be  a very powerful experience and so do not be surprised to feel extremely tired or light headed at the end of your session.
4-6 Sessions are recommended to really begin to unravel probably years of held tension and stress in the body and mind, however most people remark at the sensations of instant relief from discomfort, physical or emotional.
Small groups sessions are held for 4 people, which are helpful to join after individual sessions, to maintain and progress the work you have done.
Therapist:   Victoria Taylor
Mobile:        07970 823 533
Email:         info@releasepilates.com
Web:           www.victoriataylorsomatics.co.uk

Available Classes
Mondays 9.30am – Pilates & Natural Movement
A blend of classical Pilates, mobility and core strengthening, to enable fuller range of movement for our joints and soft tissue, encouraging natural functional movement to return to the body with a strong focus on foot mechanics and other movements such as crawling, squatting, bending, balancing and much more.
Tuesdays 5.30pm – Somatic & Natural Movement
A blend of Somatic release work and learning how the nervous system restricts us.  You will learn how to reduce tension in restricted areas that cause pain, stiffness and inflammation, all of which add to long term health issues due to lack of flow through the soft tissue.  Natural movements can then be restored with less risk of recurring pain and injury.
Thursdays 9.30am – Somatic Healing
Learn how much fear (from pain, trauma, illness, emotion, modern living and more) your body is holding and where that fear hides itself in your body.  Learn how this restricts your breathing and how by releasing the diaphragm and pelvic floor you can restore true function to your "core" muscles.  Reset the nervous system to "rest and restore" or parasympathetic mode – of paramount importance to our immune system and therefore overall health and wellbeing.
Each Class is run as a 6 week course which is £65.00. Classes are restricted to a maximum of 6 Students.  Please contact Victoria direct for more information and up to date availability.