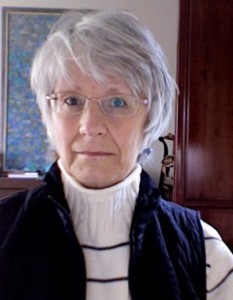 Hilary White, Alexander Technique Teacher
This work of skilful observation and re-education involves a mixture of subtle hands-on work and talking.  It can be life changing and is particularly helpful in improving issues with back, neck and shoulder pain, and for stress in all its guises.
Hilary teaches The Alexander Technique at several osteopathy clinics and health centres as well as from her home in Charing, Kent.
She first had Alexander lessons in 1985 to improve her own posture and breathing which often deteriorated towards the end of each school term.  As a teacher she discovered that Alexander's principles were transformative, not only in stressful situations but in the minutiae of daily life.
Before qualifying as an Alexander Technique teacher, Hilary studied Anatomy, Physiology and Massage, Reiki, Bowen Technique, Rosen Method and Life Coaching, gaining skills that helped her expand her awareness of psycho-physical approaches to healing processes.
Ongoing lessons in The Alexander Technique she says, encourage people to unlock and explore, to find a new freedom and lightness through the guiding touch and contactful presence of an Alexander teacher.
The British Medical Journal has published the findings of a clinical trial which shows that Alexander Technique lessons provide long term benefit for chronic back pain sufferers.
Mobile: 07515 520718
Email: Hilarywhite@waitrose.com
Appointments are available one Wednesday a month in the Ananda Studio